EXCITING NEW OPTIONS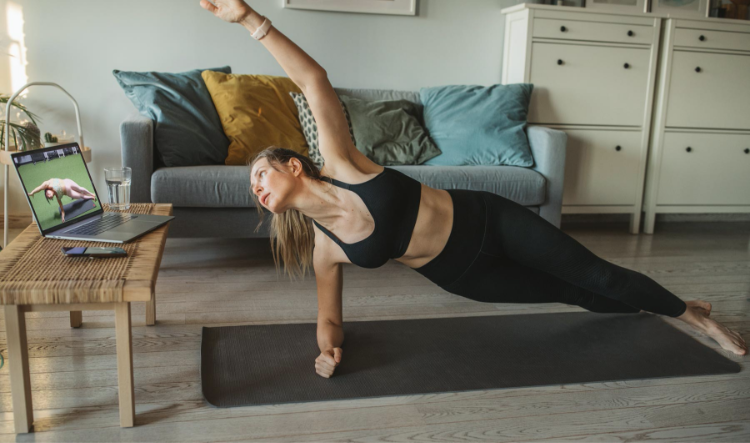 Add Your Custom Own VOD!
What better way to engage your members than by adding virtual classes they can take in addition to the vast Studio SWEAT onDemand library of workouts!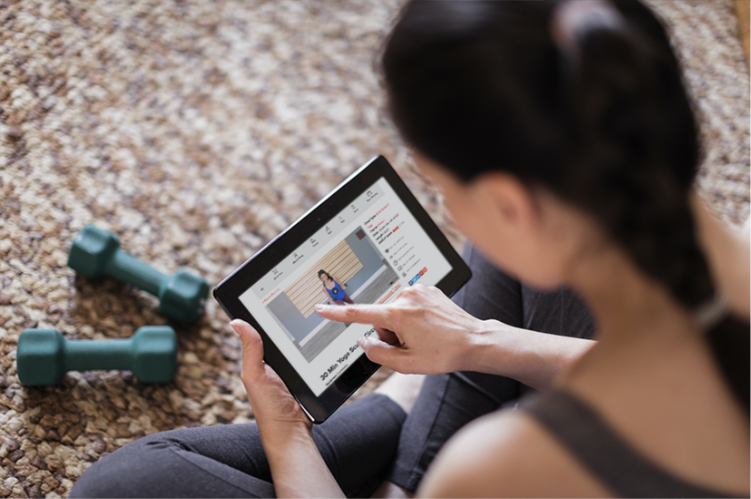 Member Personal Device Streaming
Offer your members the benefit of streaming the best virtual workouts online through their own personal devices, whether they're at your facility, at home, or on the road!
No shame, just sweat!
According to a recent study, many Americans feel threatened and intimidated by gyms, and as a result, avoid working out entirely. With Sweat Pro, you can give your members the flexibility to work out whenever they want, in an environment where they can feel comfortable.
62%
of Americans avoid gyms due to a fear of being judged
54%
would prefer to work out in a secluded, judgement-free area of the gym (like a Studio SWEAT workstation – hint, hint.)
42%
feel ashamed of their bodies while working out

10 million
report being pointed at, laughed at or insulted inside of a gym.
Now for the good news!
Virtual fitness gives users a stress-free workout space, increased confidence, plus the feeling of being part of a community. Maybe that's why virtual training has been shown to increase live class participation by 12%!
Proud
partner of...


PURE FITNESS, PURE SAVINGS!
We offer a variety of affordable plans and options to meet your unique business needs.

Multiple Locations
Request Pricing
- OR -

Single Location
Shop Plans

Discounts available for:
Schools, Universities, Non-Profits, and Military Campuses

The Ultimate Virtual Gym
Unlimited classes from our huge online library
Passionate, world-class trainers
No actors or models—work out with real people
Weekly new releases
A true in-studio experience

The Flexibility You Need
Quick & easy set-up
No need to buy expensive equipment
Available with multiple screen set-ups in each facility
Downloadable classes so you're always in business

Advantages for Your Business
Free promotional tools like flyers, wall banners & more
Programs to boost client engagement
Usage reports

The best rates in the business
Discount pricing for multiple locations
No long-term commitment required

Save Money with Low Overheads
With our virtual fitness program for health clubs and other facilities, you won't need to pay for expensive trainers or special equipment. And with the ability to stream on multiple screens, you can maximize the number of participants that can join in the fun.

Boost Client Retention
Creating a virtual gym in your commercial facility will encourage long-term usage from your clients.

Attract New Customers
Add value and build your customer base with our huge variety of fat-torching workouts, fitness challenges, and group classes, taught by the best in the business.
Sweat, streamlined
The Hottest Fitness in 1 Click
Yoga, Spin®, TRX®, HIIT/Tabata, Core, Body Sculpt, Kickboxing, Zumba®, Barre, Pilates and more, with new classes added all the time.
Workouts, On-Point & On-Demand
With hot new releases every week we'll constantly deliver a huge library of hundreds of online workouts with your very own virtual personal trainers. Stream classes on any screen, like TVs, projectors or tablets! Need a backup? We'll provide you with some downloadable classes, just in case.
Experience Real Fitness
Our onDemand workouts are unscripted and feature everyday people led by real, world-class trainers. Participants feel like they're right there with us in the studio, giving them the drive and motivation to come back and crush their goals.
Classes for Any Schedule or Fitness Level
We offer the convenience of a wide variety of fat-torching workouts. Our classes vary in duration, intensity and skill level—so, no matter who's working out, they'll always find the perfect class just for them.
Schedule a Demo
VIRTUAL ONLINE WORKOUTS, JUST A CLICK AWAY

Track Activity
Get the scoop on your virtual gym's usage, including which classes are more popular and how your program is being used.

Easy & Affordable Set Up
No need to buy expensive equipment from us to offer fitness onDemand to your clients— because if you can set up Netflix, you can set up SWEAT Pro. It can be used with these devices: Roku, Apple TV, Android/Google Mobile Apps, Amazon Fire, iPad, smart TVs and many more. Basically, if you have internet access, you can use your device to stream our killer workouts right into your facility. Choose from multiple streaming solutions and get your brand-new program running within 24 hours. And if you ever need customer service, we're just a call or click away.

Spread the Word
We'll provide you with images and flyers that you can print or post online, a wall banner and a window decal, so you can announce your virtual fitness program to the world and keep engagement up. We'll also give you a menu of classes and digital logos created especially for social media.

Get in touch with us and find out how we can help you build a stronger organization.