You must sign in and have already signed up for The FREE Hustle for Helen w/ the OGs through the Decades Challenge to see this page. Sign up HERE if you already haven't!
9 Weeks. 50 SSoD Classes. Covering 10 Years with the OGs (Cat & Bethany) Starts June 1st
It looks like you are signed up! Congrats on signing up to take the Hustle for Helen w/ the OGs through the Decades Challenge!
CHALLENGE INFO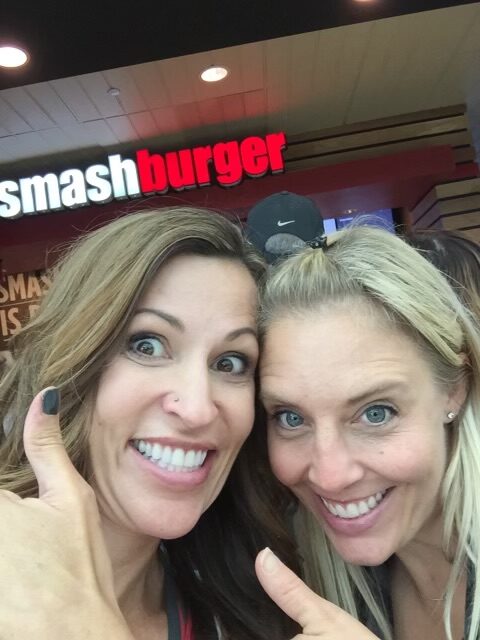 Challenge Dates: June 1st – August 2nd (Komrade Helen's birthday!)
Want to have even more fun?  Request to join the private challenge Facebook group where you can ask questions, share recipes, cheer each other on, and more!
Who is Considered a Winner?
Everyone! Did you compete, did you challenge yourself, did you step outside your comfort zone and try out new classes you have ever taken from Cat & Bethany? Then you are a winner! There will be raffle prizes at the end of this challenge for all who completed the challenge.
GRAND PRIZE (You will be entered into the grand prize drawing if you start the challenge on Week 1)
• 60-Minute Private Workout session with just you, Komrade Helen, and one of their favorite SSoD trainers. Bonus, the grand prize winner will get to help decide on the workout type and the playlist!
OTHER PRIZES WILL BE GIVEN OUT TOO – All Finishers entered in a raffle!
• SSoD Tank
• SSoD Hat!
• More!
FAQs
• Do I have to have a Spin bike to complete this challenge? Yes, this challenge requires a bike and dumbbells
• Is there a time limit on classes?  No, you can pick any class length
• Can you choose other classes than the weekly suggested? Yes! Pick any from Cat or Bethany
• Can I take a class that has more than one trainer in it? Yes! As long as Bethany or Cat is one of the trainers in it.
• What if my classes do not track in the fitness tracker? You can manually add them by doing the following steps:
1. Log on to the Website​2. Locate and click on the class you took.  3. Click on the "Add to Tracker" icon 4. Click on "Back to Class List" 5. One the top red banner under "My Spot" > "SSoD Fitness Tracker" you will see it added. (You can adjust the minutes in the minute's box by clicking on it and typing the correct minutes in)
HOW TO PLAY 
The Fitness Challenge
• Must take 50 Cat and Bethany SSoD Classes in 9 weeks
• Challenge Begins on June 1 and ends on Helen's Birthday, Aug 2.
• You can jump into the challenge anytime.
• Only SSoD classes with Cat or Bethany Count, but feel free to do other classes as needed. Just know they don't count towards the challenge.
• To meet your goal of 50 classes you need to average 5.5 classes per week
•  You can choose to take the suggested classes given or choose your own SSoD workout. Classes chosen must lead by Cat or Bethany for them to count.
• Your SSoD classes will be tracked through our SSoD Fitness Tracker, which you can click here to see anytime. Good News! We can see every SSoD class you take and this is how we know you took your Cat or Bethany, classes!
• No need to tell us which challenge you have chosen. We will be able to see how many classes you took each week on our side
• Post progress and pics on our Private Facebook group for extra motivation.
---
HELEN'S SUGGESTED WORKOUTS FOR THE WEEK
Here is what Helen suggests you pick from this week, but you can also pick your own Cat or Bethany classes from our amazing online library. Just make sure you mix it up!
Here are a few words about the challenge before you start:
Firstly when SSoD started up in 2012 on Demand there weren't quite as many choices for shorter classes in the library but the variety increases as we travel through the Decades. SSoD, as a growing business, started to add more and more class types every year. So hang in there if you find these earlier classes too long or too challenging and modify them so you can keep going. Don't forget this challenge is about YOU vs YOU!
If Cat or Bethany are on a speed mission and you can't keep up then go with half the RPM, maybe drop resistance, take a breather, keep your legs moving even slowly then jump back in when you're ready but DON'T quit! This is a long challenge and the key to success is consistency. Show up, work, and tick off those classes! You'll be amazed at how much fitter you will be by the end of the 9 weeks.
You can pick any classes from the decade for the week of any duration as long as Cat and/or Bethany are in it (ie multiple trainers are OK), however, if you want some ideas or to follow my plan I've selected 25 x 2012 classes below including the first 8 that I'll be taking myself with a link to the classes for ease. Note: ALL of the shorter classes in 2012 are already included in these 25. If you search for your own choices you can check the year the class was added online by scrolling through the library (reverse date order) on the website (not the app) and then clicking on a class and it will display the date on the right-hand side.
These suggestions will be updated each Saturday for the following Week
Week 9 (2021/22) Suggested Workouts being taken by Helen: