If your fitness tracking device has Bluetooth capability, you now have the ability to see your Heart Rate (HR) as well kCals burned on the iOS app while taking a class! How cool is that?! This feature ONLY shows in the iOS mobile app directly. It will not show if you cast with Chromecast or mirror with Apple TV.
Right now you cannot see the heart rate display over the video if you full screen the video because when you do that the Apple built-in player takes over, so we suggest just flipping your device sideways to landscape, without going full screen for the best view.
HOW TO SYNC YOUR HR STRAP TO THE iOS APP:
Connect your HR Strap to Bluetooth on the Apple device you are going to stream SSoD Classes on:

Go to Settings on your Apple Device
Click Bluetooth and connect to your HR tracker

Once connected put your HR strap or device on
Open up the SSoD App
Click on the desired class and hit play!
You will see the HR percentage on the bottom right side of the class page.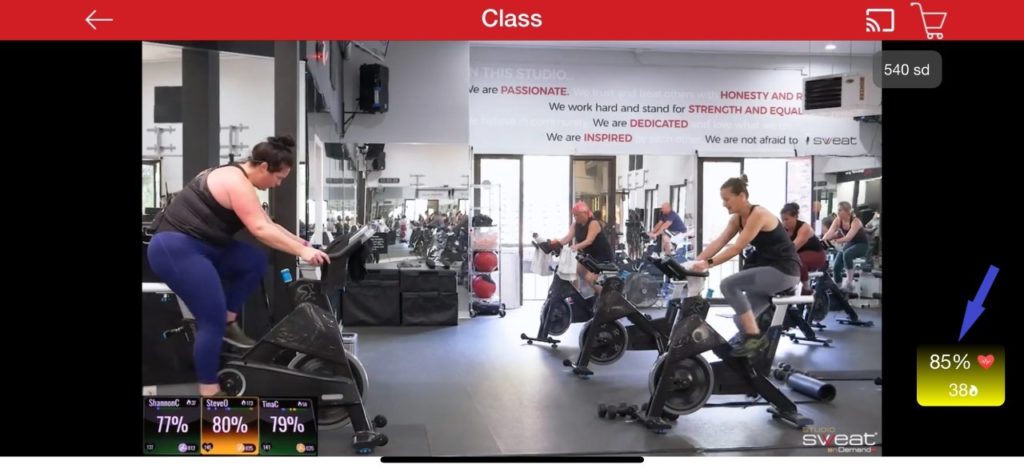 6. If you think your MHR needs adjusting please go here to learn more.
NOTE… IF YOU ARE A MYZONE USER:
Kill your MyZone app in order to see the HR box appear on the bottom left side of the page. YOU CAN NOT HAVE BOTH MYZONE AND THE SSOD APP RUNNING AT THE SAME TIME.  MyZone won't show the HR in other apps if the MyZone app is open.  It's not in our control, but don't worry! Your MyZone MEPS will still track and show up later in your MyZone App.
You always have the option not to use this feature. Just simply keep both apps open if you do not want to display your HR in the SSoD app.
LEARN MORE ABOUT YOUR KCAL DISPLAY HERE
Posted in: App - Apple & Android