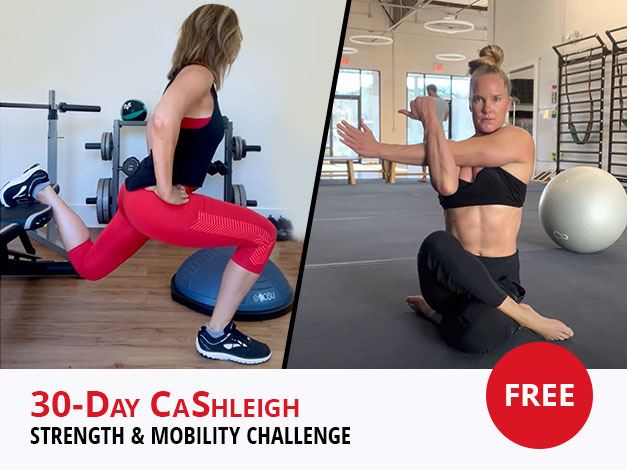 Get Stronger. Move Better.
#CASHLEIGH30DAY
You can start this challenge anytime. We just thought it'd be fun to do at the same time for anyone that wanted to.
____________
THE CHALLENGE IS

FREE TO THE WHOLE WORLD!!!
but welcome to Studio SWEAT onDemand
You should totally Claim Your Free 7-Day Trial to see why people around the world love our workouts, our app, our trainers and our community.
____________
More on the CaShleigh Challenge
We're (literally and figuratively) pumped to announce our new 30-Day CaShleigh Strength & Mobility Challenge! This month-long challenge is led by Cat and her amazing mobility expert and friend, Ashleigh. Therefore…CaShleigh! Get it? The challenge incorporates resistance training and mobility exercises that gradually increase in intensity — breaking you through all those boundaries and bringing you to the next level! These exercises target your chest, shoulders, hips, and hammies, making you stronger and more limber than ever before.
You can start any day you like. Let's do this!
Here's how you compete in the challenge
★ All the online tools needed to successfully complete the challenge can be found by CLICKING HERE > where you'll see:
– A printable 30-Day tracker for your exercises where you'll see that you get to place a big red x over each day as you complete it!
– A guide on how to measure your mobility to see how it improves from the start to the end of the challenge
– Pictures and video demos of every single strength exercise and stretch that you'll be doing A LOT of – Note you need to be looking at the pdf online (digitally) to use the video demo links.
– And, there is an optional nutrition and hydration tracker too. Whaaaat?! Yeah, it's pretty cool.
★ If you are currently a Studio SWEAT onDemand member
(not to be confused with Studio SWEAT because San Diego locals may not have accounts on this site, but we want you to do the challenge too!
we'd like to know that you're participating, so please make sure you're logged in and select the button below so we know you joined the challenge, whether you're starting on Oct 24 with us or not!
★ Pics please!
If you're down with it… take the pictures (as directly in the online tools doc) on Days 1 and 30. These can be for you alone, you and a friend, or we'd love if you posted any before and afters on your social media with #CASHLEIGH30DAY
You can also post progress on our KOMrade Facebook group and encourage your fellow KOMrades to join you!
★ Share with Friends & Tag Us 
Cat Kom, Ashleigh, and a whole crew of people at Studio SWEAT onDemand and Move worked super hard on this challenge for y'all so we'd be so grateful if you helped us promote this so that we can all make the world a better place. How?
– Share this page with your friends, family, co-workers… everyone!   https://www.studiosweatondemand.com/cashleigh_challenge/
– Talk about us on your social media accounts as you're doing the challenge and always add #CASHLEIGH30DAY
Let's goooooooo!!!!!