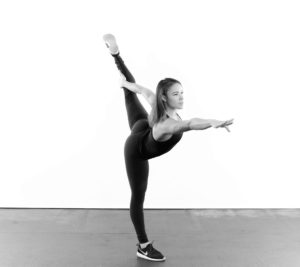 Favorite Workout Jams
Classic Rock
Dance
Electronic/EDM
Tatiana says, "Exercise and nutrition have been my passions my entire life." She is a NASM certified personal trainer with a degree in Kinesiology Pre-Physical Therapy. She also teaches barre, Pilates, bootcamp, suspension, kettlebell, Spinning and battle rope group exercise classes.
Tati, as we like to call her, competed in gymnastics for her entire childhood and most of her teen years. She says that, "gymnastics has had a huge influence in teaching me about proper body alignment and the importance of form. It has also taught me the importance of implementing core strength and flexibility in your daily fitness routine. It taught me a lot about pushing myself, about patience, about not giving up on your goals, and about the desire to become your very best self."  During this time she was required to do a lot of rehabilitation exercises which inspired her to major in Kinesiology, Pre-Physical Therapy at San Diego State University. There she studied biomechanics of the human body, anatomy, physiology, sports psychology, nutrition, corrective, functional and adaptive exercise techniques and much more over the course of four years.
Studying the human body and the impacts various exercise styles, movements, and foods have on it brought Tatiana to where she is today and she truly believes that exercise is the best medicine. "The energy you feel when your exerting yourself and working your hardest, especially around people with similar goals and mindsets is truly addicting."
Training Philosophy
Train the same, stay the same. Every workout should be slightly different, rather it's a different cadence, different amount of reps, different exercise entirely, different challenge or just going into your workout with a different mindset. We are ever evolving, and should continue to push ourselves as so and be open to new styles, new experiences, and new opportunities both in and out of the gym to continue progressing.
Training Style
Perfect form and alignment, mixed with innovative exercises, and a don't stop mentality.