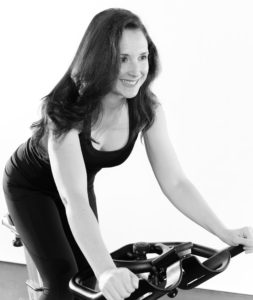 Favorite Workout Jams
Alternative
Electronic/EDM
Old School
Hip Hop/Rap
Mimi grew up in Michigan and was exposed to almost every sport her Dad could get her to try. She became totally addicted to skiing and made her way out to Salt Lake City to play on the mountains and has stayed there every since.
Biking and running have always been her thing when the ski hills are closed. She even competed and finished in the Ironman European Championships, Ironman Arizona and finished in the top 20 of her age group in Ironman St. George!
After having two kiddos Mimi decided to focus primarily on marathoning and has raced all over Utah and completed the Boston Marathon 4 times. Her claim to fame in Utah is winning the 2015 Deseret News Marathon after coming in 2nd the two years before.  She loves to motivate a group to work at their fullest potential and strive for better fitness while having a great time.
Education: Mimi has a degree in Exercise and Sports Science with an Athletic Training specialty from the University of Utah.
Training Philosophy
The energy I put out is what I get in return. I am all about pushing you to the max but doing it with a smile. I love to work hard and truly enjoy watching people push themselves harder than they thought they could. I believe there is a true gain of fitness when that happens and am syked to be a part of it.
Training Style
It's all about rhythm! I teach most of my classes to the beat to keep you motivated and working hard.