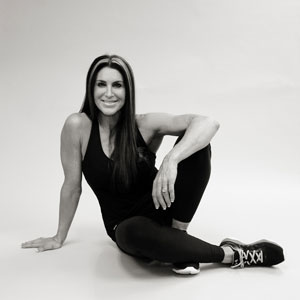 Favorite Workout Jams
Pop
Dance
Hip Hop/Rap
Electronic/EDM
Accomplished. Amazing. Bad Mama Jama. AND Gramma
If experience is the best teacher, then Carolyn is probably one of the most educated fitness professionals in the world! She's seen it all, and lived it all. She brings a lot of diversity to our Studio SWEAT team, holding certifications in TRX®, Spinning®, Krank Cycle, ACE, NESTA, Mat Pilates, EFI Gravity, Hydrorider, Kinesis, Jillian Michael's BODYSHRED™ , and more.
Carolyn has never stopped enjoying what she does, continuing her training and education on a wide variety of training styles. From climbing Mount Whitney, riding her bike from San Francisco to LA in 3 days, and stepping on stage as a 50 year old figure competitor, she continues to set fitness goals so she can hold herself to the same standards that she holds her trainees to. In 2017 she took second place in the IFBB North American Figure over 50 competition that embraces USA, Canada, and Mexico competitors. Expect her motivation and inspiration to translate into your perspiration.
Training Philosophy
Carolyn loves keeping it interesting for her clients by incorporating a multitude of training modalities. Her classes are dynamic and she will always push her clients beyond their comfort zones. Her extensive experience in the fitness world has also given her insight into the best ways to modify exercises for all abilities, limitations, and age groups while still achieving desired results.
Training Style
Experienced, energetic and fun!