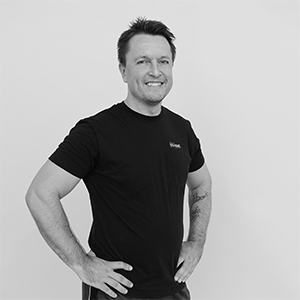 Favorite Workout Jams
Alternative
Rock
Hip Hop/Rap
Fusion of rap/rock
Alternative that borders rock
(think Disturbed and Linkin Park)
Want to know who the starting pitcher was for any MLB team in 1992? Ask Brian. He seems to know every sports stat out there! Especially for any Boston teams, since that's where he was born and raised; FANatic about his Red Sox and Pats. He played baseball and football from the time he could run or hold a mitt all the way into college. Speaking of college, Brian has a BA from Colby College in Maine, an MBA from Northeastern and is currently a finance executive at a Fortune 50 company, but one of his favorite accreditations is his newest, his SPINNING® certification!
Despite a heavy interest in athletics and sports, Brian's weight and fitness level have ebbed and flowed over the years with "rock bottom" coming ~ 5 years ago when he lost his commitment to a healthy lifestyle. Guess where he found that commitment again? Studio SWEAT! With the support, guidance and encouragement from Cat and the amazing trainers at Studio SWEAT, Brian shed close to 60 pounds the RIGHT way – healthy eating, exercise, hard work and a whole lot of fun! Brian LOVES working out, everything sports related and most especially spending time with his family and friends. Oh, and you'll see when you take his classes they're pretty hard, but he always inserts a little humor into the mix making them insanely fun.
Training Philosophy
I train because I want to be healthy, feel good and have the energy to enjoy life. I train because I want to, not because I have to
Training Style
Tough, fun and motivating!